WELCOME TO THE RENOWED PERSONALITIES!
On behalf of the Organizing Committee we take great pleasure to cordially welcoming you all academic scientists, researchers, research scholars, students and experts of application fields to Frankfurt, Germany for the Global Conference on Robotics and Artificial Intelligence conference to foster the progress in the field by contributing with your expertise to what promises to be a very comprehensive and exciting meeting, and to enjoy the immense unique artistic heritage and wonderful landscape of Frankfurt.
International Conference and Expo on Robotics and Artificial Intelligence (iRobotics-2021) which will be held during November 8-10, 2021 at Frankfurt, Germany. Frankfurt is now an established event, attracting global participant's intent on sharing, exchanging and exploring new avenues of Robotics and Artificial Intelligence related research and latest developments. The event will have world level (Highly cited class) Plenary Speakers, established Keynote speakers, active Invited speakers and fresh contributed speakers. In addition, variety of poster presentations along with workshops and special sessions would be interested in audience.
The aim of the iRobotics-2021 is to promote quality research and real-world impact in an atmosphere of true international cooperation between scientists and engineers by bringing together again the world class researchers, International Communities and Industrial heads to discuss the latest developments and innovations in the fields of Robotics.
We sincerely hope that iRobotics-2021 serves as an international platform for meeting researchers from around the world, widen professional contact and create new opportunities, including establishing new collaborations.
We look forward to seeing you in iRobotics-2021 in Frankfurt, Germany.
Guidelines for the Abstract Submission:
Please choose a brief title of the presentation (maximum of 100 characters) that indicates the content of the contribution.
The acceptable word range for the abstract is 150 - 250 words. The abstracts which do not meet this word limit will be sent back to the authors to be revised.
The abstract content should be in English.
Please ensure that photograph and biography is included along with abstract submission.
Submit your abstract online via the iRobotics-2021 website or to (irobotics-2021@pagesconferences.com) email ID.
After submission, you will be acknowledged with the acceptance letter via email within 2-3 working days.
All the accepted abstracts will be published in our conference proceedings.
Workshop Presentation: "Next Generation Human Robot Collaboration"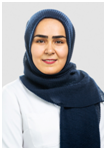 Prof. Dr. Hans Wernher van de Venn,
Fatemeh Mohammadi,
Maryam Rezayati
Head of Mechatronic Systems(IMS), Zurich University of Applied Sciences (ZHAW), Switzerland